Sale: 328 / Rare Books, Nov. 19./20. 2007 in Hamburg

Lot 17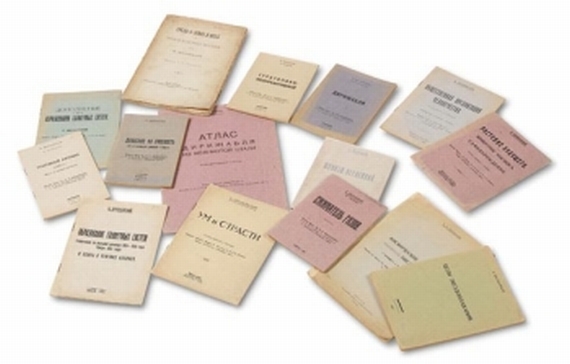 17
Konvolut Ziolkowski. 15 Werke + 1 Dublette. Insg. 16 Tle., 1917.
Estimate:
€ 2,000 / $ 2,380
Sold:

€ 3,120 / $ 3.712
(incl. 20% surcharge)
Lot description
Sammlung von
15 russischen Werken von K. E. Ziolkowski.
Mit einigen Illustrationen. Kaluga, ferner Moskau und Berlin u. a. 1895 und 1925-1932. OBrosch. 12mo. bis Kl.-4to.
Interessante Sammlung von Schriften des bedeutenden russischen Luft- und Raumfahrttheoretikers Konstantin Eduardowitsch Ziolkowski (1857-1935). Ziolkowki, studierter Physiker und Lehrer für Mathematik und Physik in Kaluga, beschäftigte sich seit etwa 1885 mit der Raumfahrt und dem Raketenflug und publizierte bis zu seinem Tod 35 Schriften. Er führte Versuche im selbtgebauten Windkanal durch und brachte um 1898 die Idee von der Verwendung von flüssigen Raketentreibstoff auf, seine epochalste Leistung jedoch war die von ihm 1903 veröffentlichte, für die Entwicklung der Raumfahrt grundlegende Raketengrundgleichung. Ein lebenslanges Projekt Ziolkowskis war die Konstruktion eines Ganzmetalluftschiffes. Obwohl Ziolkowski eine praktische Umsetzung seiner Ideen nicht mehr erlebte und seine Theorien ihm erst gegen Ende seines Lebens wissenschaftliche Anerkennung brachten, gilt er doch als einer der Wegbereiter der modernen Raumfahrt (über Ziolkowski vgl. DSB XIII, 482ff.). - Vorlieg. Sammlung enthält 15 seiner wichtigsten Schriften, jew. in erster oder früher Ausgabe.
Vorhanden:
I.:
Träumerei von Himmel und Erde und Effekte der Weltgravitation. Moskau, M. G. Voltschaninov 1895. -
II.:
Entstehung der Sonnensysteme. (Ausschnitt aus dem großen Manuskript). Kaluga 1925. -
III.:
Nachtrag zur Entstehung der Sonnensysteme. Kaluga 1928. -
IV.:
Verstand und Spekulation. Ebd., Selbstvlg. 1928. -
V.:
Gesellschaftliche Organisationsstruktur der Menschheit. Berechnungen und Tabellen. Ebd. -
VI.:
Das Wachsen der Zukunft. Das Lebendige des Weltalls. Urzeugung. Ebd. 1929. -
VII.:
Raketenraumzüge (Mit der Biographie K. E. Ziolkowsky von S. V. Bezsonof). Ebd., Kollektiv d. Abt. wiss. Mitarbeiter 1929. -
VIII.:
Ziele der Raumfahrt. Kaluga 1929. -
IX.:
Druck auf die Oberfläche bei ihrer freien Bewegung in der Luft. Ebd. 1930. -
X.:
Düsenflugzeug (entnommen dem großen Manuskript). Ebd. - 1 Dublette beilieg. -
XI.:
Gasverdichter. Ebd. 1931. -
XII.:
Der Monismus des Weltalls. Ebd. -
XIII.:
Luftschiffe. Ebd. -
XIV.:
Atlas eines Luftschiffes aus gewelltem Stahl. Ebd. -
XV.:
Das halbreaktive Stratosphärenflugzeug. Ebd. 1932. - 2 Brosch. mit leichten Gebrauchsspuren. Insges. gut erhalten.
Rare collection of essays by the Russian teacher and aviation theorist K. E. Ziolkovsky, a pioneer of modern astronautics. Containing 15 of his 35 important scientific publications on topics like astronomy in general and interplantary travel, the motions of rockets, airplanes with metal frames and other types of planes, air pressure on surfaces etc., all in first or early editions. Orig. wrappers. - 2 wrappers with slight traces of use. All in all well-preserved.
17
Konvolut Ziolkowski. 15 Werke + 1 Dublette. Insg. 16 Tle., 1917.
Estimate:
€ 2,000 / $ 2,380
Sold:

€ 3,120 / $ 3.712
(incl. 20% surcharge)
You might also be interested in