Sale: 287 / Rare Books, May 24./25. 2004

Lot 622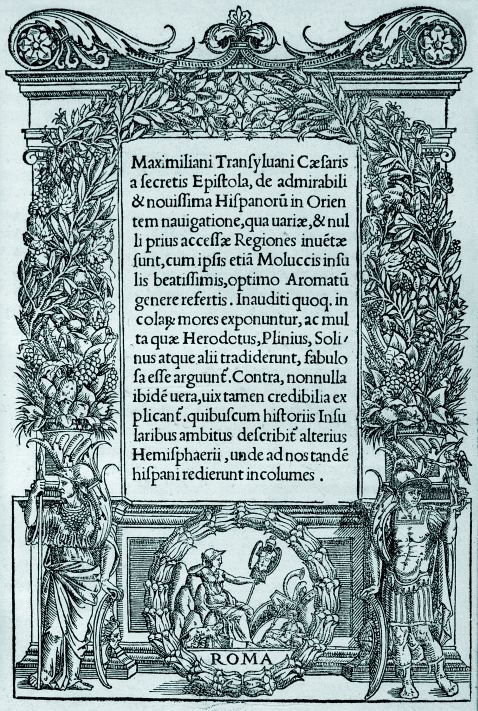 622
Maximilianus Transsylvanus
Caesaris a secretis epistola, 1523.
Estimate:
€ 35,000 / $ 38,500
Sold:

€ 94,300 / $ 103.730
(incl. 15% surcharge)
Lot description
Maximilianus Transsylvanus,
Epistola, de admirabili & nouissima Hispanoru(m) in Orientem nauigatione, qua uariae, & nulli prius acessae Regiones inue(n)tae sunt, cum ipsis etia(m) Moluccis insulis beatissimis, optimo Aromatu(m) genere refertis. Mit
Holzschnitt-Titelbordüre
. Rom, F. M. Calvo Nov. 1523. Mod. Papierumschlag. Kl.-4to. Titel, 18 nn. Bll.
Harrisse 123. - Sabin 47039. - J. Carter Brown Libr. I, 88. - Borba de Moraes II, 547. - Brasilien-Bibl. Bosch 10. - Palau 158775. -
Der erste Bericht über die Weltumsegelung Fernando Magellans, äußerst selten!
Die erste der beiden römischen Ausgaben der berühmten Schrift, insges. die dritte nach dem Kölner Druck vom Januar 1523 und der Pariser Ausgabe vom Juli des gleichen Jahres. Ein letzter Druck erschien dann noch im Februar 1524, gleichfalls bei Calvo in Rom (Harrisse 124. Rothschild Cat. 1956).
Fernao de Magalhaes, der sich ab 1517 nach seinem Eintritt in spanische Dienste Magallanes nannte, war am 20 September 1519 mit fünf Schiffen vom spanischen Sanlucar de Barrameda aus aufgebrochen. Er entdeckte im Oktober 1520 die westliche Durchfahrt an der Spitze des südamerikanischen Kontinents - die nach ihm benannte Magellanstraße - , segelte weiter in den Pazifik, den er 'Stiller Ozean' nannte, und erreichte ein halbes Jahr später die Marianen und die Philippinen, wo er am 27. April auf der Insel Mactan im Kampf mit den Eingeboreren fiel. Lediglich eines seiner Schiffe, die 'Victoria' unter dem Befehl von J. S. de Elcano, kehrte über Timor und das Kap der Guten Hoffnung am 6. September 1522 nach Spanien zurück. "Magellans Tat,
die erste Umspannung des Erdballs, das ruhmwürdigste Unternehmen der Entdeckungsgeschichte, ist die Vollendung dessen, was
Columbus
durch eine großen Schritt eingeleitet hatte. Mit dem Erreichen des O-Gestades der Alten Welt auf dem W-Wege und mit dem Anschluß an die portugiesischen Molukken-Fahrten war ein erster Großkreis der Weltentdeckung geschlossen." (Henze)
Der hier vorlieg. Brief des kaiserlichen Sekretärs am Hof Karls V. Maximilianus Sylvanus an seinen Vater, den Kardinalerzbischof von Salzburg, gibt eine Gesamtdarstellung der Reise nach mündlichen Berichten der gerade heimgekehrten Seefahrer und wurde somit bereits vier Monate nach deren Rückkehr zum ersten Mal gedruckt. Er stellt damit
die früheste gedruckte Quelle der Seereise Magellans dar
, noch vor den Berichten von Pigafetta, Bautista und Barbosa. Pigafettas Schilderungen erschienen erst 1524/5, beide Berichte zusammen wurden dann 1536 noch einmal in einer venetianischen Ausgabe zusammengefaßt. -
"All these works, the importance and rarity of which it is needless to stress again, were much studied by Humboldt, Harrisse, Brunet, Church, J. C. Rodrigues ... "
(Borba de Moraes). Die ersten beiden Ausgaben vom Januar bzw. Juli 1523 lassen sich im Handel seit Jahrzehnten nicht nachweisen und auch diese dritte Ausgabe ist außerordentlich rar. G. W. Cole beschreibt im Church-Cat. 1907 als erster die zweite, Pariser Ausgabe von 1523, die etwa Harrisse und anderen Bibliographen bis dahin noch völlig unbekannt war; bei Church finden sich alle drei anderen Ausgaben des Briefes, ihm fehlt jedoch wie vielen anderen Sammlungen auch der hier vorliegende, römische Druck vom November 1523 (vgl. Church-Cat. 51, 52 und 56).
Hinzuweisen bleibt noch auf eine interessante drucktechnische Variante unseres Exemplars: auf dem Titlblatt findet sich im Vergleich zu allen anderen nachgewiesenen Exemplaren eine kleine Abweichung, es heißt dort gegen Ende nicht (wie etwa bei Harrisse, Bosch, Borba de Moraes oder J. C. Brown) " ... quibuscum historiis Insularibus ambitus describit alterius Hemisphaerii,
qua
ad nos tandem hispani ...", sondern " ...
unde
ad nos tand
e(m)
hispani ..."! - Koll.: Titelbl., 3 nn. Bll. (Vorstücke), 15 nn. Bll. - Lagen: A-D/4, E/3 (st. 4, ohne d. l. w. Bl.); Bl. D 2 fälschlich als E 2 bez. (vgl. Harrisse). Mit dem Kolophon auf Bl. 15 re. - Zustand: 1 Bl. leicht braunfl., 3 Bll. mit schwachem Wasserrand im Kopfsteg, ansonsten sauber und wohl erhalten.
The first account of the first voyage of circumnavigation by F. Magellan!
Scarce third edition, first Roman edition. Rare printing variant, differing in one single word in the title from the copies of the cited collections ('unde' instead of 'qua'). - Woodcut title-border, 3 preliminary leaves, 15 unnumb. leaves (missing the last blank; signature D 2 wrongly marked E 2); colophon on leaf 15 recto. Mod. wrappers. Sm.-4to. - 1 leaf somewhat foxed, 3 leaves slightly waterstained in the upper margins; otherwise clean and well-preserved.
622
Maximilianus Transsylvanus
Caesaris a secretis epistola, 1523.
Estimate:
€ 35,000 / $ 38,500
Sold:

€ 94,300 / $ 103.730
(incl. 15% surcharge)
You might also be interested in