Sale: 284 / Rare Books, Nov. 17./18. 2003

Lot 1840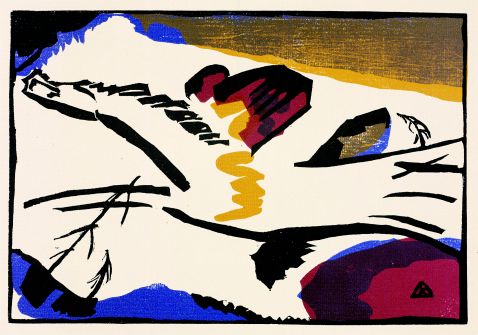 1840
Klänge. 1913.
Estimate:
€ 35,000 / $ 38,500
Sold:

€ 36,800 / $ 40.480
(incl. 15% surcharge)
Lot description
Kandinsky, (W.),
Klänge.. Mit
12 farbigen und 44 Schwarzweiß-Holzschnitten von W. Kandinsky.
München, R. Piper & Co. [1913].Violettfarb. OHLwd. mit goldgepr. Deckelvignette und goldgepr. RTitel. im OPp.-Schuber. 4to. 59 nn. Bll. (d.e.w.)
Roethel, Bücher 9 sowie 72-74, 85, 95-140, 142-146. - Dok.-Bibl. I, 282 - Jentsch 9. - Lang 164 und S. 48 ff. - Rifkind Coll. II, 1368. - Reed 162. - Artist and the Book 138. - From Manet to Hockney 31. - Grohmann S. 413. - Vom Jugendstil zum Bauhaus. Kat. Münster/Göttingen 1981, Nr. 85. - Papiergesänge. Kat. München 1992, Nr. 24.
1 von 300 Exemplaren auf Van Gelder Zonen-Bütten, im Druckvermerk von Kandinsky signiert und eigh. numeriert. Gedruckt bei Poeschel & Trepte in Leipzig, Druck der Holzschnitte bei F. Bruckmann in München. Papierformat 28 : 28 cm, Titeldruck in Blauviolett und Schwarz.
"Betrachtet man die 'Klänge' jedoch als buchkünstlerische Leistung, so dürfen sie ohne weiteres den Anspruch erheben, zu den bemerkenswerten illustrierten Büchern der expressionistischen Zeit zu gehören. Schon die Gestaltung der Seiten zeigt beträchtliches Können, die rhythmische Spannung zwischen Holzschnitt und genußvoll lesbarem Schriftsatz (Antiqua) ist ebenso gut durchdacht, wie die großzügige Verwendung des Unbedruckten als Blattweiß die Gestalt einer Seite verschönt. Nach den Büchern des Jugendstils ist dieses das erste aus der Zeit des Expressionismus, das in allen seinen Teilen, von der Schrift über deren Grad und Durchschuß bis zum Satzspiegel, der Illustration, dem Papier und dem Einband, einheitlich durchkomponiert ist." (Lang)
"If one surveys the long list of Expressionist illustrated books from the point of view of harmony of text, typography, and illustration, one must recognize Kandinsky's Klänge ... as a masterwork ... With the publication of Klänge, an ingenious, completely modern Expressionist book had come into beeing, one that still never fails to awaken enthusiasm in its readers and viewers." (P. Raabe in Rifkind Coll. I, S. 120)
Die Holzschnitte tlw. mit leichtem Abklatsch. Nur wenige Bll. sehr geringfüg. und gleichmäßig gebräunt, VDeckel und Rücken mit leichten Lichtspuren. Titelbl. im Rand mit kl. Stempel. Exlibris. - Insges. sehr schönes, ungewöhnlich sauberes und wohl erhaltenes Exemplar.
"The range of Kandinsky's work is seen here, from cuts in his early style reminiscent of folk art and Jugendstil to his nonobjective designs, which have been so important in 20th century art."
(Garvey)
56 (12 color) woodcuts by W. Kandinsky. Orig. half cloth. - First edition. 1 from 300 copies, signed and numbered by the artist. - Only some leaves minim. and evenly tanned, front cover and back partially sunned; small stamp on the titlepage. Exlibris. Overall a very nice, clean and well-preserved copy.
1840
Klänge. 1913.
Estimate:
€ 35,000 / $ 38,500
Sold:

€ 36,800 / $ 40.480
(incl. 15% surcharge)
More offers for Wassily Kandinsky

You might also be interested in

Wassily Kandinsky - lots sold by Ketterer Kunst