Sale: 266 / Rare Books, May 06./07. 2002

Lot 518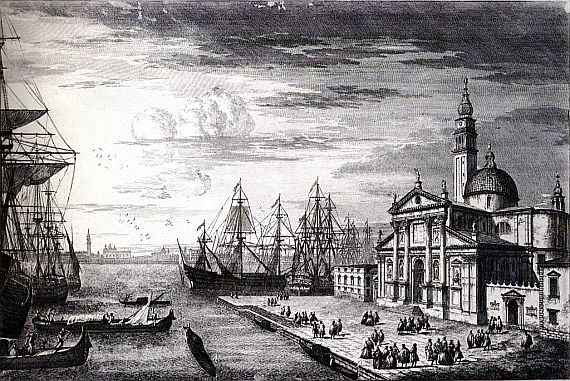 518
Antonio Canaletto (d.i. Antonio Canal)
Urbis venetiarum... . Beigeb.: Marieschi, M., Magnificentoris ... urbis venetiarum., 1742.
Estimate:
€ 30,000 / $ 33,900
Sold:

€ 74,750 / $ 84.467
(incl. 15% surcharge)
Lot description
Marieschi, M.,
Magnificentiores selectioresque urbis Venetiarum prospectus. Mit
gest. Titel mit breiter Rahmenbordüre und Porträt sowie 21 rad. Ansichten
. Venedig 1741. -
Vorgeb.: Canaletto, A. und A. Visentini,
Urbis Venetiarum prospectus celebriores. 3 Tle. in 1 Bd. Mit
3 gest. Titelvignetten (wdh.), gest. Titel mit breiter figurativer Bordüre, gest. Porträt und 38 rad. Ansichten
. Venedig, J. B. Pasquale 1742. - HLdr. d. Zt. Quer-Folio.
I:
Toledano, Michele Marieschi S. 59 ff. - Cicognara 4040. - UCBA II, 1305. - Ornamentstich-Slg. Bln. 2697. - Thieme/Becker XXIV, 97. - Erste Ausgabe. Vollständiges Exemplar der seltenen Vedutenfolge, alle Blätter im ersten Druckzustand. - Der Landschafts- und Architekturmaler Michele Marieschi (1710-43), der eine zeitlang auch in Deutschland als Theatermaler lebte, zeigt in seinen Radierungen einen stark von seinem Zeitgenossen Canaletto beeinflußten Stil. Die prachtvolle Vedutenfolge mit den Ansichten von Venedig ist Marieschis erstes selbst gezeichnetes, radiertes und ediertes Werk. - "Marieschi war ein sehr begabter und origineller Radierer. Seine graphischen Möglichkeiten gehen weit über seine Vorgänger hinaus; die Linienführung ist eng, ihr Verlauf oft ondulierend. Er kann die Linien zu tiefen, samtigen Schattenzonen zusammentreten lassen und erreicht Abstufungen bis zum kaum mehr wahrnehmbaren Grau, in dem ferne Schiffsmaste und zarte Kumuluswolken gerade noch Gestalt gewinnen. Die atmosphärische Wirkung seiner Blätter ist ganz einzigartig." (Dreyer, Vedute, architektonisches Capriccio und Landschaft in der venezianischen Graphik des 18. Jh., Ausstellungskatalog Berlin 1985, S. 46). - "... in 1741, a few years after his return from Germany, Michele drew attention with his 21 popular engravings of the 'magnificent sights' of Venice, anticipating by only two years Canaletto's views as engraved by Visentini ... the relationship, affinities, and ties between Marieschi and Antonio Canal appear to be very close ... Actually, although he based himself on the presuppositions of Canaletto, Marieschi soon acquired his own individual artistic personality, his own well-defined style, which makes it possible to recognize him, when one has studied his work carefully, and to distinguish him from the other Venetian view painters of his time. And he is recognizable by virtue of his particular qualities, which set him off from Canaletto." (A. Marassi, Michele Marieschi. Bergamo 1966.) - Sämtliche Radierungen im ersten Druckzustand, der durch die Bildunterschrift sowie die Zeichner- und Stecherangabe im rechten unteren Bildrand charakterisiert ist. Die späteren 3 Druckzustände zeigen eine Numerierung im linken unteren Rand sowie tlw. Abweichungen in der Bildunterschrift. - Auf breitrandigem, festem italienischen Bütten, tlw. mit Wasserzeichen. - Vereinz. schwach fingerfleckig im w. R., 5 Tafeln mit kl. Rostspur in der Darstellung, 1 Tafel mit daraus resultierender kl. Fehlstelle, 1 weitere Tafel leicht fleckig, Tafel V mit kleiner, kaum sichtbarer Restaurierung im Bundsteg.
II:
Constable E II (S. 605 ff.). - UCBA I, 218. - Ornamentstich-Slg. Bln. 2695. - Thieme/Becker V, 486 (Canaletto) und XXXIX, 419 (Visentini). - Vgl. Cicognara 4113. - Erste Ausgabe der dekorativen, dreiteiligen Vedutenfolge von Antonio Visentini nach Antonio Canaletto. Der erste Teil erschien in eigenständiger Form bereits 1735. - Mit Porträts von Canaletto und Visentini sowie einer Übersichtstafel ('Tabularum series'). - Die 14 Ansichten des ersten Teils sind spätere Drucke auf abweichendem, gelblichem Papier. - Im w. R. vereinz. schwach fingerfleckig, die Abbildungen nahezu fleckenfrei. Einbd. mit kl. Wurmspuren, RDeckel mit Feuchtigkeitsspuren, Kanten und Rücken schwach berieben, 1 Ecke bestoßen.
Wohlerhaltenes und sauberes Exemplar mit den beiden prachtvollen und sehr seltenen Vedutenfolgen in einem Band. - Aus der Bibliothek C. A. Isermeyer, Hamburg.

I: engraved title and 21 engraved plates. First edition, plates in first state of print. - Occasional slight marginal fingerstaining, 5 plates with little patch of rust in the illustration, 1 plate with little defective spot in the illustration, 1 plate slightly soiled.
II: 3 engraved title vignettes, engraved title, engraved portrait and 38 engraved plates. First edition of this splendid work in three parts. Plates of part 1 are later prints on different yellowish paper. - Occasional slight marginal fingerstaining, illustrations nearly stainless.
Contemporary half calf. Binding with little worming, back cover stained by damp, edges and spine slightly rubbed, 1 corner bumped.
Two rare and exceptional series of vedutas in a fine and clean copy. -
Isermeyer copy.
518
Antonio Canaletto (d.i. Antonio Canal)
Urbis venetiarum... . Beigeb.: Marieschi, M., Magnificentoris ... urbis venetiarum., 1742.
Estimate:
€ 30,000 / $ 33,900
Sold:

€ 74,750 / $ 84.467
(incl. 15% surcharge)
You might also be interested in

Antonio Canaletto (d.i. Antonio Canal) - lots sold by Ketterer Kunst