Sale: 248 / Rare Books, Nov. 13./14. 2000

Lot 151.10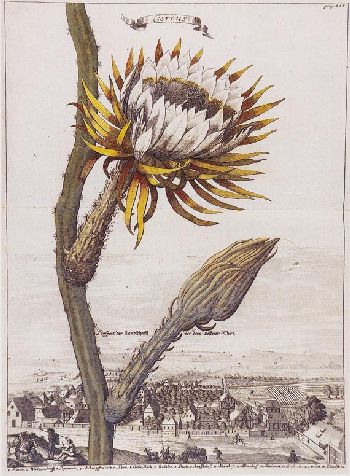 151.10
Johann Christoph Volckamer
Nürnbergische Hesperides, 1708.
Estimate:
€ 40,903 / $ 46,220
Sold:

€ 94,077 / $ 106.307
(incl. 15% surcharge)
Lot description
Vol(c)kamer, J. Chr.,
Nürnbergische Hesperides, oder gründliche Beschreibung der edlen Citronat-, Citronen-, und Pomerantzen-Früchte, ... Auf das accurateste in Kupffer gestochen, in vier Theile eingetheilet und mit nützlichen Anmerckungen erkläret. Beneben der Flora, oder Curiosen Vorstellung verschiedener raren Blumen ... Wie auch einem Bericht von denen in des Authoris Garten stehenden Columnis Malliaribus. -
Continuation der Nürnbergischen Hesperidum. -
10 Tle. in 2 Bdn. Mit insges.
2 gest. Frontisp., 26 gest. Vignetten und Textkupfern sowie 250 (24 gefalt.) tlw. ankolor. Kupfertafeln.
Nürnberg, J. A. Endter 1708/14. Zeitgenöss. Pergamentbde. mit goldgepr. Wappensupralibros. Folio. Vortitel, Frontispiz, Titel, 2 Bll., 255 S., 6 Bll.; Frontispiz, Titel, 19 Bll., 239 S. bzw. Bll. (Pag. fehlerhaft), 2 Bll., 17 S., 2 Bll.
Nissen 2076/78. - Hunt 420. - Dunthorne 323. - Pritzel 9848/49. -Lanckoronska/Oehler l, 43. - Feldmann, Blüten und Blätter Nr. 43/44. - Sitwell/Blunt, Great Flower Books S. 148 (nur Bd. l). - Coll. A. Plesch Nr. 798 (nur Bd. l): "An astonishing book with a series of magnificent plates in which the fruits and flowers are almost subordinate to views of gardens ...". -
Erste
Ausgabe der berühmten Monographie über Zitrusfrüchte; Exemplar mit der selteneren 'Continuation', die 6 Jahre nach dem ersten Band gleichfalls in Nürnberg erschien.
Die prachtvollen Kupfertafeln zeigen u. a. neben einigen allegorischen Darstellungen überwiegend Zitrusfrüchte sowie verschiedene exotische Pflanzen, zumeist in Verbindung mit sehr schönen Garten-, Schloß- und Gehöftansichten aus Süddeutschland und Oberitalien, desweiteren eine Karte des Gardasees mit Umgebung, eine Abbildung eines Pomeranzen-Gewächshauses am Ufer des Sees, eine gefaltete Ansicht von S.Pietro d'Arena, eine von P. Decker gezeichnete Ansicht der Gartenanlage der Familie Volkamer im Gostenhof bei Nürnberg. "Durch den Messinghandel und den Besitz einer Seidenfabrik in Rovereto, die bereits sein Großvater gegründet hatte, konnte sich Volkamer infolge der hohen Einkünfte ganz und gar seinen Neigungen und botanisch-wissenschaftlichen Studien widmen. Diese galten in erster Linie seinem Garten in Gostenhof, ohne den sein umfassendes Werk über die Hesperides nicht denkbar gewesen wäre. Unter seiner Anleitung erreichte er die höchste Blüte. Durch Zukäufe von 1693 bis 1702 gelang es ihm, das Gelände fast um das Doppelte seines bisherigen Umfangs zu erweitern. Damit zählte der Garten zu den größten der Stadt. Seine Pracht und Berühmtheit konnte Volkamer zu Lebzeiten noch voll genießen" (H. Hamann in seinem Nachwort zur Faksimile-Ausgabe der 'Hesperides', S. 11). Die Tafeln der 'Continuation' zumeist in die Blattzählung einbezogen.
Das Wappensupralibros auf den VDeckeln mit Helmzier und Motto 'Virtus Coronat', auf den RDeckeln mit gekröntem verschlungenem Monogramm. 45 Tafeln in Bd. I ankoloriert, davon 11 nur die Pflanzen und 25 nur die Ansichten, das Kolorit überwieg, in schlichter und einfacher Ausführung, tlw. verso durchschlagend. Auf 4 ankolor. Tafeln findet sich in der Darstellung die hs. Signatur 'Johann Welcke 1795' (im gleichen Farbton des Kolorits). Der gleiche Name taucht auf dem Vorsatz von Bd. l als hs. (Besitz?)vermerk auf.
Vortitel von Bd. II fehlt. Tlw. im Rand etw. stockfl. und vereinzelt wasserrandig, ca. 16 Textbll gebräunt. 1 Falttafel (Palastansicht in Verona) im Falz eingerissen, in Bd. II. die ersten 25 Bll. im Bund mit Wurmspuren (3 Tafeln geringfüg, betroffen), 3 Falttafeln (Ananas) mit kl. Randeinriß und unbedeut. Knickspuren. Titelbll. mit hs. Numerierung (tlw. gelöscht). Insgesamt jedoch schönes und wohl erhaltenes Exemplar, mit den prachtvollen Pflanzenkupfern in guten Abzügen.
2 vo/s. 2 engraved frontispices, 26 engraved vignettes and 250 (24 folding) plates, some partly coloured. Contemp. vellum.
First edition of this famous monography on citrus fruit with the rare Part II 'Conti-nuation
'. 45 plates in vol. l partly handcoloured (on 4 plates the colouring signed 'Johann We/cke 7 795'). Occasional slight spotting to margins only and some marginals dampstaining, 16 texf pages browning. Binding of 7 folding plate (Palace in Verona) with tear, in Vol. II the first 25 leaves (3 plates) with tiny worming to inner margin, 3 folding plates (pineapple) with small marginal tear and negligible trace of creasing.
Overall a crisp, attractive and well-preserved copy with magnificent botanical plates in good impression.
151.10
Johann Christoph Volckamer
Nürnbergische Hesperides, 1708.
Estimate:
€ 40,903 / $ 46,220
Sold:

€ 94,077 / $ 106.307
(incl. 15% surcharge)
You might also be interested in

Johann Christoph Volckamer - lots sold by Ketterer Kunst