Sale: 392 / Modern Art, June 09. 2012 in Munich

Lot 94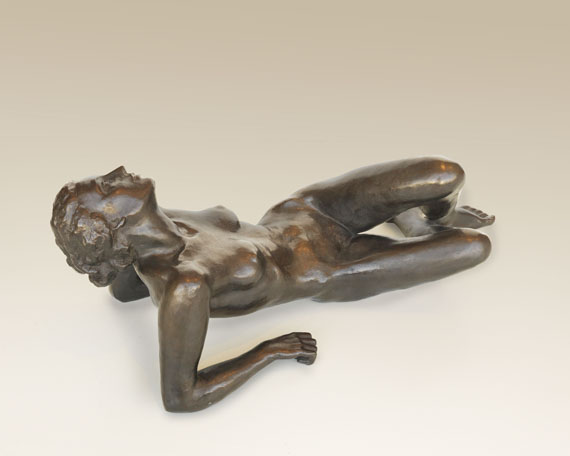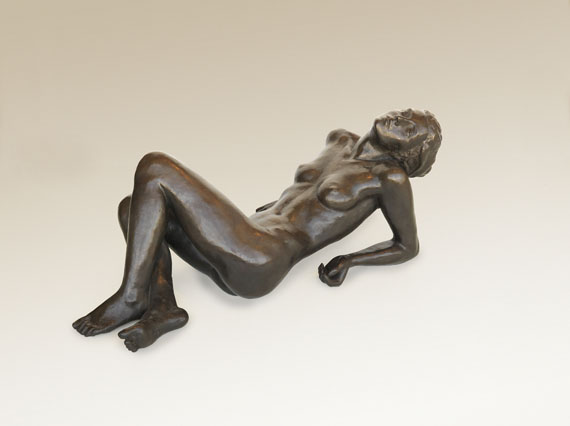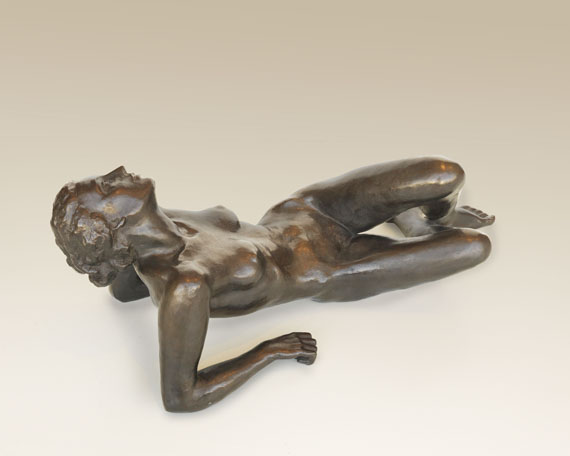 94
Sommertag, 1937.
Bronze
Estimate:
€ 30,000 / $ 28,200
Sold:

€ 43,920 / $ 41,284
(incl. 22% surcharge)
Sommertag. 1937.
Bronze with brown patina.
Braun 184. With monogram and foundry mark on "H.Noack Berlin" on sole of right foot. 45 x 112 x 46 cm (17,7 x 44 x 18,1 in).
Cast by art foundry Hermann Noack, Berlin, after 1945.

Accompanied by a confirmation of authenticity issued by foundry Noack, Berlin, on 18 December, 2011.

EXHIBITION: Special exhibition Fritz Klimsch. Plastik, exhibition facility in Tiergartenstraße 21a, Berlin, 26 March - 4 May, 1938, no. 3 (different copy, no illu.).
Große Deutsche Kunstausstellung 1938. Haus der Deutschen Kunst, Munich 1938, p. 59, cat. no. 492 (different copy, no illu.).
Fritz Klimsch - Exhibition. 1939. Städtisches Moritzburgmuseum, Halle, no. 22 (different copy).

LITERATURE: Uli Klimsch, Fritz Klimsch. Die Welt des Bildhauers, Berlin 1938, illu. in black and white p. 123 (different copy).
Werner Rittich, Klimsch (Das Meisterwerk), Berlin 1941, p. 4, black and white illu. plate 20 (different copy).
Egbert Delpy, Fritz Klimsch, Berlin 1942, illu. 43 and 44 (different copy).
Hermann Braun, Fritz Klimsch. Werke, Hanover 1980, pp. 86f., with illu. (different copy).

Fritz Klimsch trained at the Königliche Akademische Hochschule für die bildenden Künste [Royal Fine Art Academy] in Berlin. On his wedding trip to Paris, Klimsch became acquainted with Rodin's work, which greatly impressed him with its liveliness of form and expression and left a lasting influence on him. Klimsch regarded Adolf von Hildebrand as second only to Rodin as the inspiration behind his art. In 1898 Klimsch founded the Berlin Secession jointly with Max Liebermann and Walter Leistikow. Travels to Italy and Greece shaped his style. Klimsch was subsequently extraordinarily successful with portraits, monuments and funerary sculpture as well as female nudes. In 1912 he became a member of the Prussian Academy of the Arts, in 1916 senator there. In 1921 he was appointed professor at the School for Visual Arts, where he had a studio until 1934.

The female nude occupies the largest part of Fritz Klimsch's creation, no other contemporary sculptors was so deeply occupied with this subject. His female figures possess a marvelous natural appeal and grace. He manages to show the female body in ever new ways, resting or in motion, but always in a clear beauty following classic antiquity. The bronze "Sommertag" from 1937 is a peculiarity, especially for its almost life-size dimensions. The reclined position is also rare. Besides few half reclined figures in marble or stone, which Klimsch designed as stair strings of fountain figures, only two similar, however, clearly smaller depictions are known: the bronze "In der Sonne" (1925/26, Braun 126) as well as the brass cast "Liegende" (1924, Braun 120). The model for the face of "Sommertag" was the small portrait bust of his daughter in law Lisel, which Klimsch had made a little earlier (1936, Braun 178). Only two casts of "Sommertag" were executed before World War II, of which one is in possession of the State gallery Moritzburg in Halle since 1939, acquired in context of a large Klimsch exhibition. Further casts of the rare bronze were executed after 1945.

As of 1933 Fritz Klimsch was more and more taken up by the National Socialists. In the beginning he fought for colleague sculptors Barlach, Kollwitz and Lehmbruck, however, unsuccessfully. Personal encounters, successful exhibitions and awards seemed to have captured the rather apolitical artist. After the war the artist settled in the Black Forest to live in seclusion, producing from then on only a few works in small formats. In 1960 Fritz Klimsch was awarded the Große Bundesverdienstkreuz (Order of Merit of the Federal Republic of Germany) and died that same year. [CB].


94
Sommertag, 1937.
Bronze
Estimate:
€ 30,000 / $ 28,200
Sold:

€ 43,920 / $ 41,284
(incl. 22% surcharge)
Fritz Klimsch - lots sold by Ketterer Kunst