Sale: 375 / Post War / Contemporary Art, Dec. 04. 2010 in Munich

Lot 112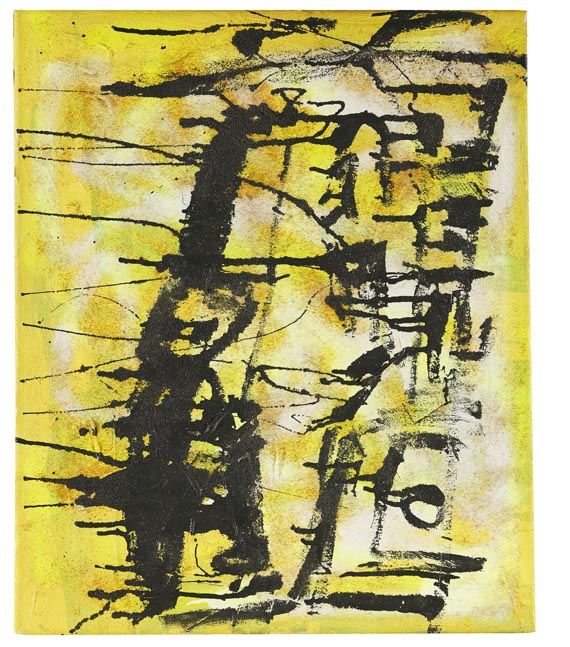 112
Capri bei Nacht, 1982.
Oil
Estimate:
€ 25,000 / $ 30,000
Sold:

€ 31,250 / $ 37.500
(incl. 25% surcharge)
Lot description
Oil and sawdust on canvas
50 x 60,3 cm (19,6 x 23,7 in)

PROVENANCE: Private collection Germany (acquired directly from artist).

Martin Kippenberger grew up in a cultured, art-loving family. After doing badly at school and dropping out of an apprenticeship as a decorator, he began to study painting at the Hamburg Art Academy in 1972. Kippenberger embarked on his first large-scale art project in 1976 while spending a year in Florence and it was followed by a catalogue in 1977. In 1978 Kippenberger moved to Berlin, where he founded 'Kippenbergers Büro' with Gisela Capitain and managed Club SO 36. In the course of organizing exhibitions and concerts, Kippenberger began to buy work by contemporaries and met Max Hetzler, who would become his agent.

Martin Kippenberger counts among the most versatile artists of the German post-war era. As of the 1970s he worked with exuberant energy on his diversified œuvre. He was always occupied with critical questions regarding society, the art business and finding new means of expression for contemporary art. The artistic examination of the Ford Capri, a sports car popular with common people in the 1970s, coined Kippenberger's œuvre of the 1980s. At first he made the painting "Kein Capri", after a photograph of a Ford Taunus in snow, with the inscription "Kein Capri" scratched into the snow. This motif was also printed on the invitation for the exhibition "Capri bei Nacht", which took place in co-operation with Albert Oehlen in the gallery Tanja Grunert in Stuttgart in 1982. Kippenberger painted a Ford Capri with brown paint and oatmeal. When visitors entered the dark exhibition hall the oatmeal car's headlights went on, which is 'Capri at night'. In this connection Kippenberger also made several paintings of the Capri-Motif, in which the car is always depicted in a diagonal position, staged in various degrees of abstraction.

In the 1980s Kippenberger produced many of his own works and had his first large-scale exhibition at a museum in Darmstadt in 1986: 'Miete Strom Gas' ['Rent Electricity Gas']. He also collaborated with Albert Oehlen, Werner Büttner and Georg Herold on joint projects. In 1990 Kippenberger was a visiting professor at the Städelschule in Frankfurt and taught at the Gesamthochschule Kassel in 1992. A large-scale, long-term project that would keep him busy for the rest of his life was the realisation of a world-wide underground railway, for which he designed and built an entrance in Syros, Greece, in 1993, another in Dawson City, Canada, in 1995 and a third in 1997 at the Leipzig Trade Fair. It was posthumously supplemented that same year by a ventilation shaft executed after his plans in Münster and a portable entrance at documenta X in Kassel. [JS].


112
Capri bei Nacht, 1982.
Oil
Estimate:
€ 25,000 / $ 30,000
Sold:

€ 31,250 / $ 37.500
(incl. 25% surcharge)
More offers for Martin Kippenberger
You might also be interested in
Martin Kippenberger - lots sold by Ketterer Kunst