Sale: 370 / Old Masters and 19th Century, Oct. 29. 2010 in Munich

Lot 1124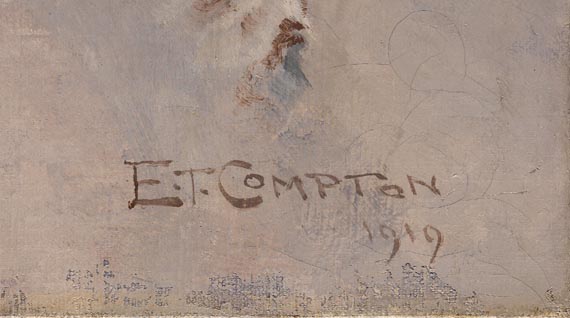 Signature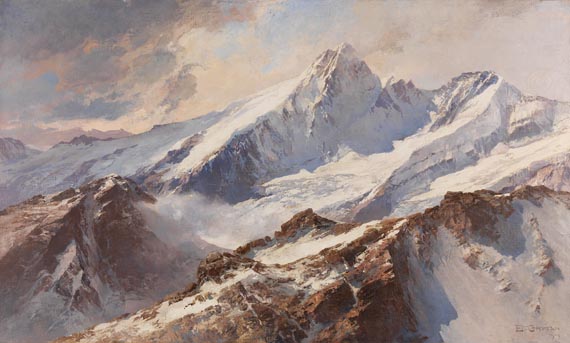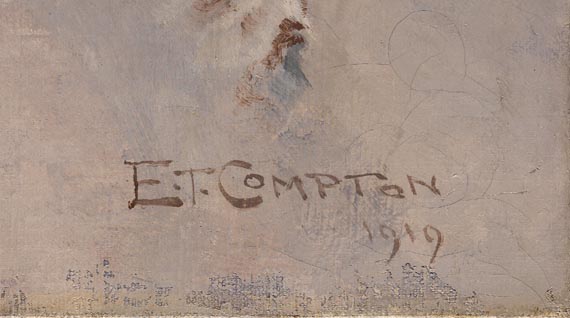 1124
Blick auf den Großglockner vom Großen Wiesbachhorn, 1919.
Oil on canvas
Estimate:
€ 18,000 / $ 18,720
Sold:

€ 53,680 / $ 55.827
(incl. 22% surcharge)
Oil on canvas
Signed and dated lower right. 90,5 x 150,5 cm (35,6 x 59,2 in)
Inscribed and titled on verso of stretcher.
The identical motif shows a work from 1918, which is in possession of the Austrian Alpine Association, Innsbruck, inventory no. 2647, up until today (cf. Brandes, Jürgen and Sibylle: Edward Theodore Compton - Maler und Bergsteiger, Munic 2007, p. 278, no. 447).
The work is registered in the sales register of E.T. Compton under the no. 1707 and the title "Großglockner vom vorderen Bratschenkopf".

We are grateful to Dr. Jürgen Brandes, Tutzing, for his expert advice.

Edward Theodore Compton was born in Stoke Newington near London in 1849. His parents brought him up in a way that put great emphasis on spending time out in nature from an early point on, which would be decisive for his further development. In the early 1860s he made first studies of nature. Owing to his parents, who recognized his talents from an early point on and supported him, he attended several art schools and the Royal Academy of Arts in London for a short time. In 1867 the family moved to Germany, settling in Darmstadt. The same year E.T. Compton goes on a journey through the Rhineland, of which several sketchbooks deliver proof. Further family journeys follow, e.g. to the Bernese Oberland, where the impression of the sublime mountains fascinate the young E.T. Compton so much that it will have decisive impact on his further path of life. As of 1869 the young artist lived in Munich, where he showed his works for the first time to a broader audience in the 'Glaspalast'. After his marriage in 1872 he went on a two-year journey with his wife to Tyrol, Carinthia, Italy and Switzerland. As of 1874 the coupe lived in Feldafing on Lake Starnberg, where the artist will reside for the rest of his life. In the following years Edward Theodore Compton extensively traveled Northern Africa, Spain, Corsica and Scandinavia. The most decisive and lasting impression, however, is left behind on him by the impressive high alpine scenery of the Bernese Oberland, so that he from that point on was exclusively occupied with mountain painting. At first his style followed tendencies of English Romanticism, the artist would soon turn to a more realistic manner of depiction. He worked up the impressions gained on tours through the Alps, the Pyrenees, in Corsica and Scotland in oil paintings, watercolors and India ink drawings. These topographically elaborate views have an almost documentary character. Besides being a member of the Austrian Alpine Association, he also joined the exclusive British Alpine Club and the Royal Academy London. Next to his activities as a painter, E.T. Compton also worked as an illustrator for various alpine magazines and publications. Edward Theodore Compton died in his adopted home in Feldafing on Lake Starnberg in 1921.

This impressive work from the artist's later period of creation also gives the observer an idea of the fascination the artist must have felt at the sight of the primal and enormous nature. This immanent captivation bestows the unmistakable and unique character upon his works that gives the observer not only a feeling of topographic exactness, but also an image of the immediate natural spectacle, but mostly of the mountain's size and sublimity. [CM].


1124
Blick auf den Großglockner vom Großen Wiesbachhorn, 1919.
Oil on canvas
Estimate:
€ 18,000 / $ 18,720
Sold:

€ 53,680 / $ 55.827
(incl. 22% surcharge)
You might also be interested in
Edward Theodore Compton - lots sold by Ketterer Kunst