Sale: 369 / Post War/ Contemporary Art, June 12. 2010 in Munich

Lot 207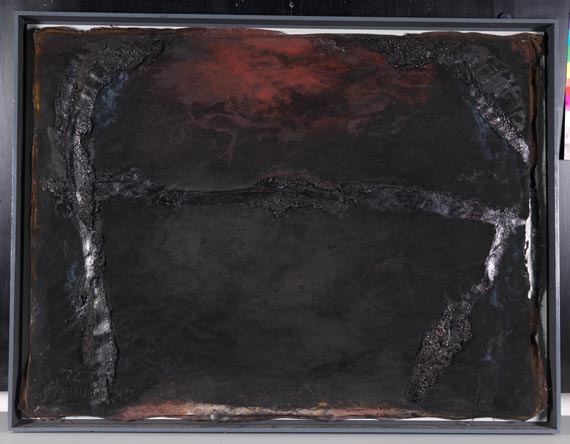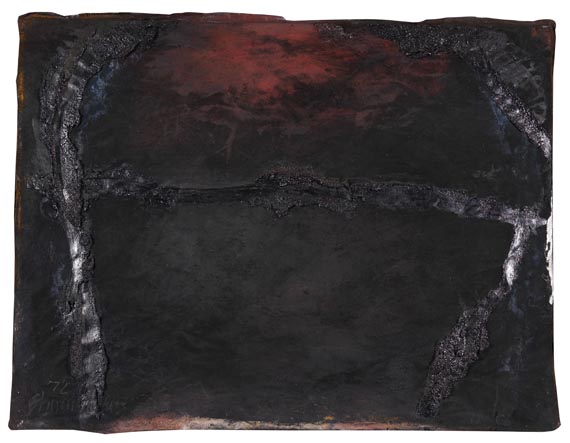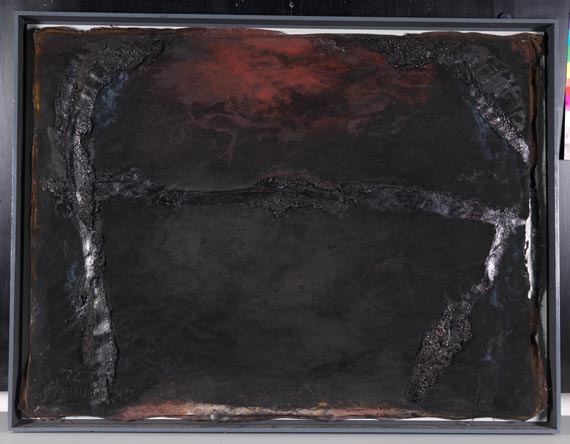 207
Bogen vor Rostrot, 1972.
Oil on canvas
Estimate:
€ 40,000 / $ 40,000
Sold:

€ 61,000 / $ 61.000
(incl. 22% surcharge)

Oil on canvas. Mounted in object box
Signed and dated lower left. Ca. 92 x 122 cm (36,2 x 48 in)

PROVENANCE: Galerie Volker Skulima, Berlin.
Private collection southern Germany.

Emil Schumacher, born in the Westphalian town of Hagen in 1912, began a three-year degree at the school of applied arts in Dortmund when he was 20 years old. He started working as an independent artist in 1935 and founded the artist and exhibition association "junger westen" in 1947 together with a few other artists. The style of his work changed radically in 1950. He abandoned painting objects and turned towards the expressive power of painting alone. Color itself gradually became the decisive element of his works. This biographical artistic process happened during a period, which was determined by the French École de Paris, Tachism and American Action Painting. While abstraction itself was characteristic of this period, it also became a typical aspect of Emil Schumacher's personal style. During the late 1960s and early 1970s Schumacher experimented with a rigorous type of action painting, which uses and alienates different types of material. After exhibiting at the documenta III in Kassel in 1964, he created extremely large works, which manifest an extreme painterly freedom. This phase lasted until the 1980s. Schumacher became internationally known and praised around the middle of the 1950s as one of the most important artists of the Informel. He was awarded numerous international prizes, of which the Guggenheim Award in New York in 1958 was only the beginning. He was appointed professor at the Hochschule für Bildende Künste in Hamburg in the same year, accepted a post as professor in Karlsruhe in 1966 and taught as a guest professor at the university in Minneapolis/USA in 1967 for one year.

Emil Schumacher altered the conventional function of the canvas of a small group of works in the 1970s. He padded the rear of the canvas, so it bulged out of the stretcher. "You could call them 'paintings with a spatial canvas." (Kraft Bretschneider, in: Emil Schumacher und das Materialbild, ex. cat. Galerie Braunbehrens, Munich 1998, p. 11). The extremely pastose linear painting itself is carried by the already existing spatial effect of the backing. Wit this work the artist additionally crumples the canvas and then spans it unevenly onto the stretcher, so that the traces of this treatment are clearly observable. The canvas thus looses its basic function as a medium and becomes part of the picture itself.

The Deutsche Bundestag (German Parliament) honoured him in 1998 by commissioning a mural for the Reichstag building in Berlin. Emil Schumacher died in San José on 4 October 1999, one year after the large retrospective exhibition in Munich. [DB].


207
Bogen vor Rostrot, 1972.
Oil on canvas
Estimate:
€ 40,000 / $ 40,000
Sold:

€ 61,000 / $ 61.000
(incl. 22% surcharge)
More offers for Emil Schumacher
You might also be interested in
Emil Schumacher - lots sold by Ketterer Kunst