Sale: 353 / Rare Books including Marine Art, May 18. 2009 in Hamburg

Lot 86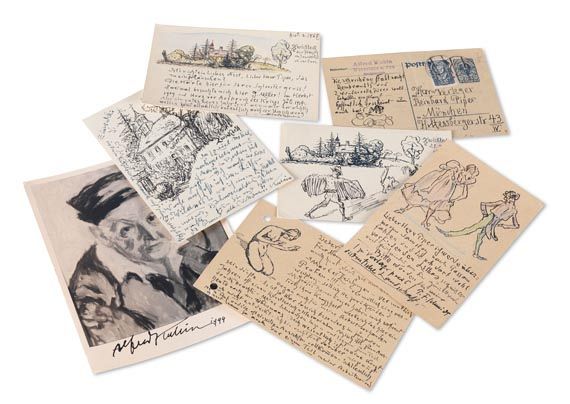 86
7 eigh. Postkarten an R. Piper. - Dabei: Karte mit Zeichnung von J. Hegenbarth.
Estimate:
€ 1,000 / $ 1,000
Sold:

€ 3,240 / $ 3,240
(incl. 20% surcharge)
Kubin, Alfred,
Zeichner, 1877-1959. 6 eigh. Postkarten m. U. und 1 eigh. Porträt-Karte m. U. Mit
4 Orig.-Federzeichnungen
(1 mit Farbstift koloriert) . Wernstein a. Inn bzw. Zwickledt 1918-44.
Sämtlich an seinen Verleger
Reinhard Piper
in München. - "... Marées Zeichnungen - vermutlich Proben!!! - vermutlich eine Verwechslung - soll ich sie zurücksenden? M-Gräfe's Bemerkungen haben mich erfreut trotz ihrer Knappheit merke ich das(s) hier ein Organ auch für meine Arbeit vorhanden sein dürfte - Es ist ja klar dass ich besonders in jüngeren Jahren oft einen künstlerisch-literarischen Misch-Stil zum Ausdruck brachte - Meine Schwächen lagen und liegen zumTeil heute noch im Übermaas - doch
wesentlich
ist meine Kunst (no)ch
nicht
entdeckt. Ich bin recht froh darüber - mir genügt mein Ruf und die oft einseitigen Ansichten vollkom(m)en. Schliesslich kennt man ja auch nur
einen Teil
meiner Arbeiten und die Hauptsache liegt mir in der Vertiefung und Bereicherung die mir wird und nicht in den Überbleibseln von bemalten und bezeichneten Papier ..." (12. VIII. 1918). Auf der Blankoseite mit kl. Zeichnung (kniende Frau mit erhobenen Händen). - "... Hurrah die Mappen sind da! Jetzt ist die Unsterblichkeit gerettet! - alles sieht vortrefflich aus ..." (21. V. 1921). Auf der Rückseite mit gedruckter Vignette von Kubins Herrensitz Zwickledt, unterhalb mit Federzeichnung (Kubin mit jew. einem Bündel Mappen unter den Armen auf dem Weg nach Hause, vorweg laufen eine Katze und ein Hahn). - "Seinem lieben Kollegen Reinhardt Piper dieses von Ivo Hauptmann im Auftrag des Kubin-Archiv in Hamburg, gemalten Konterfei des alten Hypochonders und Hexenmeisters von Zwickledt ..." (Ostern 1944; umseitig mit sign. Reproduktion des genannten Kubin-Porträts). -
Dabei: Hegenbarth, Josef
, Maler und Zeichner, 1884-1962. - Grußkarte an R. Piper mit
Orig.-Bleistiftzeichnung
(ca. 13 : 10 cm). Um 1939. Auf der Rückseite ein hs. Gedicht und Neujahrsgrüße, wohl von Hegenbarths Ehefrau.
6 autographed and signed postcards and 1 autogr. portrait card with signature by the drawer Alfred Kubin (1877-1959). All to his publisher Reinhard Piper in Munich.
86
7 eigh. Postkarten an R. Piper. - Dabei: Karte mit Zeichnung von J. Hegenbarth.
Estimate:
€ 1,000 / $ 1,000
Sold:

€ 3,240 / $ 3,240
(incl. 20% surcharge)
More offers for Alfred Kubin
You might also be interested in
Alfred Kubin - lots sold by Ketterer Kunst