Sale: 300 / XXth Century Classics, June 02. 2006

Lot 8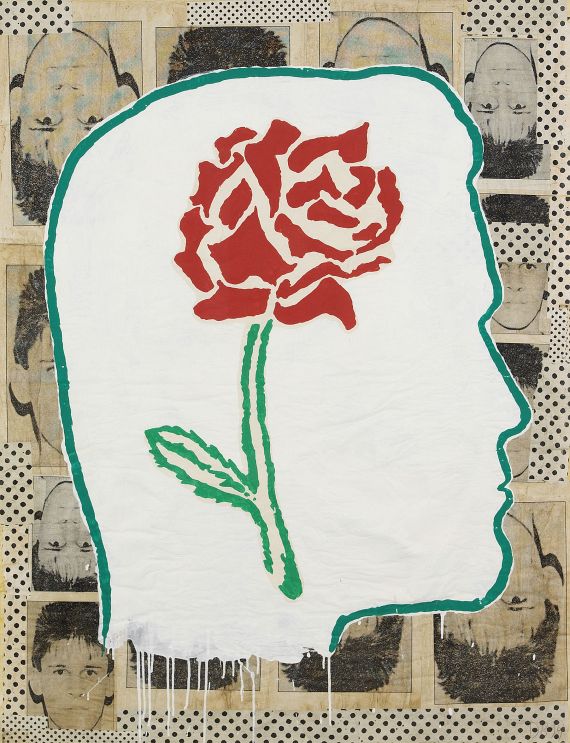 8
Profile with Flower (# 1), 1994.
Gouache
Estimate:
€ 15,000 / $ 15,900
Sold:

€ 15,470 / $ 16,398
(incl. 19% surcharge)
Profile with Flower (# 1). 1994.
Gouache über Papiercollage.
Rechts unten monogrammiert und datiert. Verso zweifach signiert sowie datiert, betitelt und bezeichnet "# 1" sowie "(Skow Hegan)". 132 x 101 cm ( 51,9 x 39,7 in).
Ausstellung: Laura Carpenter, Fine Art, Santa Fe, New Mexico (verso auf der Rahmenabdeckung mit dem Etikett).
Der amerikanische Künstler Donald Baechler wird als einer der interessantesten Maler seiner Generation geschätzt. Er studiert an der Kunstakademie des Maryland Instituts in Baltimore, an der Cooper Union, New York und an der Städelschule in Frankfurt. Aus dieser Zeit kennt er die deutschen Künstler Jiri Dokoupil, Martin Kippenberger und Markus Oehlen, mit denen er freundschaftlich verbunden ist. Seit 1984 integriert Baechler alltägliches Material wie Zahlungsbelege und Notizen, sowie Gefundenes und auf Reisen Gesammeltes collageartig in seine Bilder. Das Ergebnis sind komponierte, grafisch wirkende Gemälde, die eine comicartige Bilderbuchsprache sprechen. Baechler isoliert und abstrahiert seine Motive, Hintergrund und Vordergrund sind zwei eigene Ebenen. Auch in der vorliegenden Arbeit ist lediglich der Hintergrund collagiert und die "reine" Malerei findet im Vordergrund statt. Diese Vorgehensweise entspricht genau der künstlerischen Intention Baechlers, der Hintergrund solle wie ein gefundenes Gemälde wirken, dessen Oberfläche er einfach bearbeiten möchte. Seit den 1990er Jahren ist die Blume ein beliebtes Motiv in seiner Malerei.
Baechlers Arbeiten befinden sich in den Sammlungen internationaler Museen, u.a. im Guggenheim Museum und im Museum of Modern Art in New York, im Centre George Pompidou in Paris oder im Stedelijk Museum in Amsterdam. [LB]
8
Profile with Flower (# 1), 1994.
Gouache
Estimate:
€ 15,000 / $ 15,900
Sold:

€ 15,470 / $ 16,398
(incl. 19% surcharge)
You might also be interested in
Donald Baechler - lots sold by Ketterer Kunst