Dictionary

Rembrandt School

Rembrandt Harmensz van Rijn (1606-69), a miller's son from Leiden, was the master of Dutch baroque art. As a young man, Rembrandt achieved a degree of acclaim as a portrait painter. He soon became a well-known figure in Amsterdam, where he received so many commissions that he became an art collector, and in 1639, was able to move into a house in Amsterdam's Breestraat with his wife Saskia. This nonetheless required a loan, and Rembrandt was soon plagued by massive financial debts, which by 1656 had left him bankrupt.
By the late 17th and 18th centuries, Rembrandt was almost forgotten, having died in poverty in 1669. During his lifetime, however, his work was highly influential, and copied and absorbed by a large number of artists. He rejected idealisation and developed a fresh, intimate naturalism, and an open, painterly style, which linked soft, distinct, brown chiaroscuro with singular, vivid colours. Rembrandt executed history paintings, portraits, landscapes, and representations of religious motifs, as well as important graphic works.
Rembrandt's followers were highly influenced by his students. In 1625, after working as an apprentice under Pieter Lastman for six months, Rembrandt opened his first workshop in Leiden. Jan Lievens (1607-74) was his partner, and in 1628, Gerard Dou became Rembrandt's first student. In 1634, Rembrandt joined the Lukas Guild in Amsterdam, and subsequently trained numerous students (approximately 50), who copied his paintings and etchings in order to reproduce his style. Not all of these direct followers have been identified, but the more well known include Govaert Flinck, Ferdinand Bol, Gerbrandt van den Eeckhout, Arent de Gelder, Willem Drost, Samuel van Hoogstraten and Nicolaes Maes.
+
Sold lots Top 100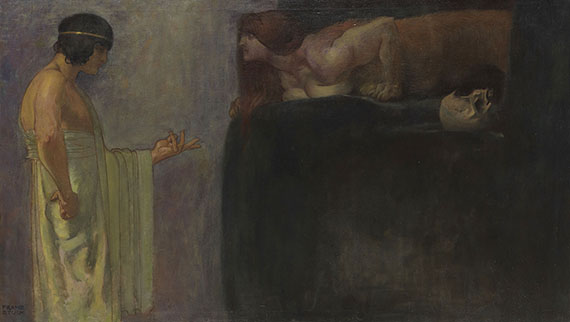 Franz von Stuck