Dictionary

Late Victorian

The latest Victorian period spans the years from 1875 to 1901, however, different styles and tendencies within the epoch itself can be observed.
The Arts and Crafts Movement, with its roots around the middle of the century, came to full bloom during this period. The aim of the movement around its protagonist William Morris (1834-96) was to counter industrial mass production with a focus on handicraft, estethics and design. The Vernacular Revival, beginning around 1850-60, was in close connection with the Arts and Crafts Movement, it had its heyday between 1880 and 1900 by contrasting gothic revival architecture with a more down-to-earth style. Additionally, the Vernacular Revival was also important for the Old English and Queen Anne Revival styles.
The so-called "Esteticist movement " was brought on its way as of the 1860s and saw its heyday in the 1870s and 1880s. The style had numerous sources of inspiration, among them ancient art and geometric ornaments. The main colors for interior decoration were yellow, blue, green, black and gold. However, prime influence is ascribed to Japanese culture, which found its way into Late Victorian in form of woodcuts, folding screens, fans and china. Other protagonists of the style were Oscar Wilde, Aubrey Beardsley and James Abbott McNeill Whistler. Painters such as Whistler and Albert Moore set a focus on the plain form, doing without any superficial symbolic meaning.
+
Sold lots Top 100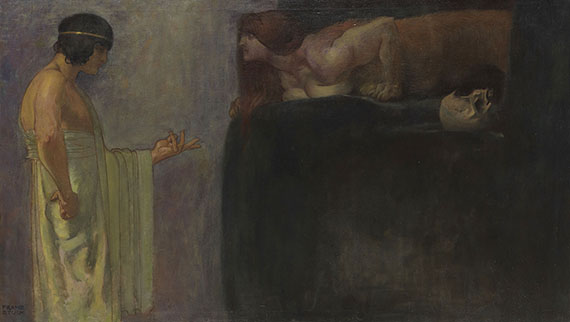 Franz von Stuck