Sale: 426 / Rare Books, Nov. 23./24. 2015 in Hamburg

Lot 170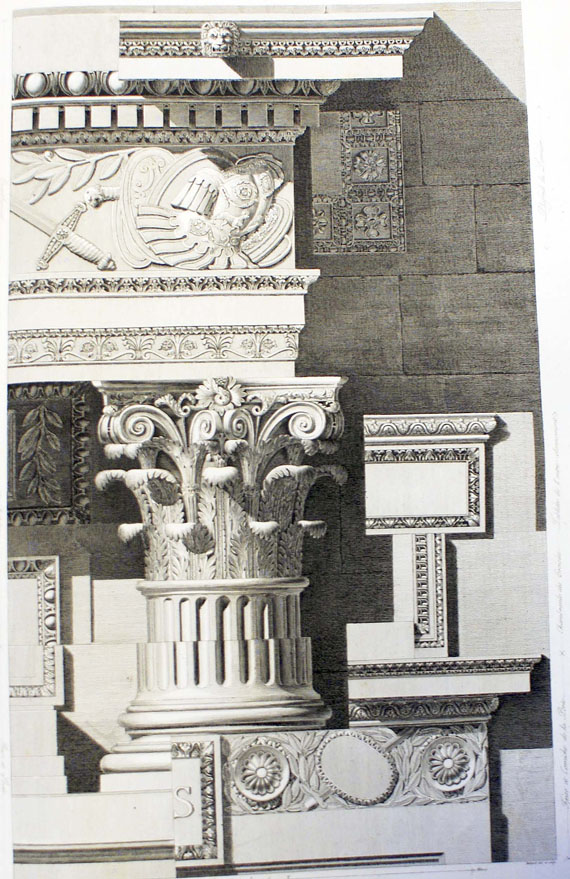 Lot description
Baltard, Louis-Pierre, Paris et ses monumens. Avec des descriptions historiques par Amaury-Duval. Tle. II-IV (von 4) in 1 Bd. Mit gest. Titelvignette, 38 Tafeln (st. 40) und 11 gest. Textvignetten. Paris, Crapelet für den Autor 1805. Pp. d. Zt. Gr.-Folio.

Teiledition des unvollendet gebliebenen Werkes. Ursprünglich in Lieferungen erschienen, daher selten vollständig. - "An unfinished work that began as a more or less conscious attempt to do for Paris what Vasi and Piranesi had done for Rome" (Brit. Arch. Libr.). - Enthält Tl. II (Schloß Ecouen; hier hinter Tl. III gebunden), Tl. III (St. Cloud) und Tl. IV (Fontainebleau). Der fehlende Tl. I beschreibt den Louvre. - Stockfleckig, wenige Tafeln u. Textbll. mit Randeinriß. Einbd. mit Gebrauchsspuren.

Graesse I, 283. - Brit. Arch. Libr. I, 180 (vollst. Exemplar). - Cicognara 3948. - UCBA I, 61. - MNE I, 44.


170
Paris et ses momumens., 1805.
Sold:

€ 240 / $ 276
(incl. 20% surcharge)
You might also be interested in