Sale: 353 / Rare Books including Marine Art, May 18. 2009 in Hamburg

Lot 61
Lot description
Decker, P.,
Fürstlicher Baumeister, Oder: Architectura Civilis, wie grosser Fürsten und Herren Paläste, mit ihren Höfen, Lust-Häusern, Gärten, Grotten, Orangerien anzulegen, und nach heutiger Art auszuzieren. 2 Teile und Suppl. zu Teil I in 1 Bd. Mit
gest. Frontispiz und 131 Kupfertafeln
(tlw. gefalt.). Augsburg, J. Wolff 1711-16. Hldr. d. Zt. Quer-Gr.-Folio.
Fowler 97. - Millard Coll. 23. - Ornamentstich-Slg. Bln. 1990. - Cicognara 487. - Thieme/B. VIII, 525. - Kat. Wolfenbüttel
Architekt und Ingenieur
, 147. - Wimmer/Lauterbach 205f. -
Vollständiges Exemplar eines der schönsten und repräsentativsten Werke zur deutschen Barockarchitektur
, "von weitgehenden Einfluß auf die Entwicklung der Baukunst in fränkischen Landen" (Thieme/B.). - Die prachtvollen Tafeln entstanden unter Mitarbeit namhafter Künstler der Zeit, darunter G. C. Bodenehr, J. J. und P. H. Kleinschmidt, J. U. Krauss, J. B. Probst, M. Engelbrecht, J. A. Corvinus, C. Remsgart. Die Kupfer zeigen Paläste und Schlösser in Innen- und Außenansichten, Gartenanlagen, Zierbrunnen, Gartenhäuser etc. - Der Anhang zum ersten Teil mit 40 Kupfertafeln mit Ansichten des Erlanger Schlosses mit seinen Park- und Gartenanlagen. - Insges. 20 Kupfer gefalt., die übrigen plano gebunden. - Wenig fleckig oder gebräunt, Titel zu Teil I mit hinterl. Einrissen. Tafel 33-40 von Teil II hinter Tafel 32 von Teil III gebunden. Einband etw. beschabt und bestoßen. Insges. gutes Exemplar, vollständig sehr selten.
Complete copy of one of the finest and most representative works on German Baroque architecture. With engr. frontispiece and 131 copper plates (some folding). Contemp. half calf. The splendid plates in co-operation with artists such as G. C. Bodenehr, J. J. und P. H. Kleinschmidt, J. U. Krauss, J. B. Probst et al, showing inside and outside views of castles and palaces etc. - Hardly stained or browned, title of part I with rebacked tears. Plate 33 40 of part II bound behind plate 32 of part III. Binding somewhat scraped and bumped. All in all fine copy, extremely rare in this complete state.
61
Fürstlicher Baumeister. 1711.
Estimate:
€ 7,500 / $ 8,775
Sold:

€ 10,800 / $ 12.636
(incl. 20% surcharge)
More Images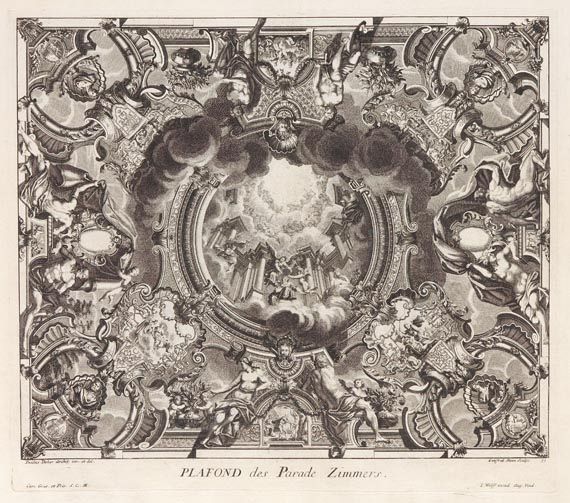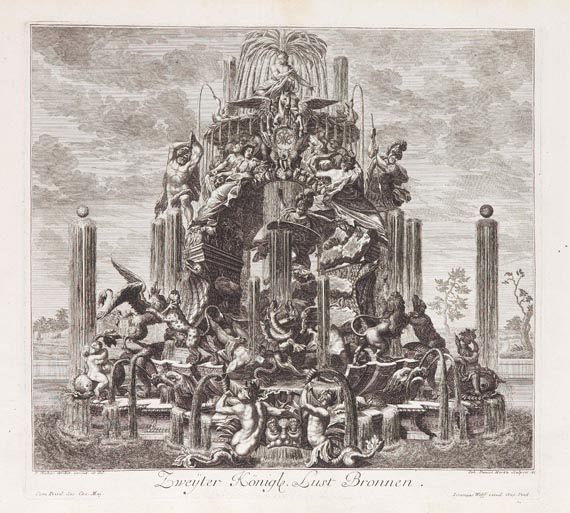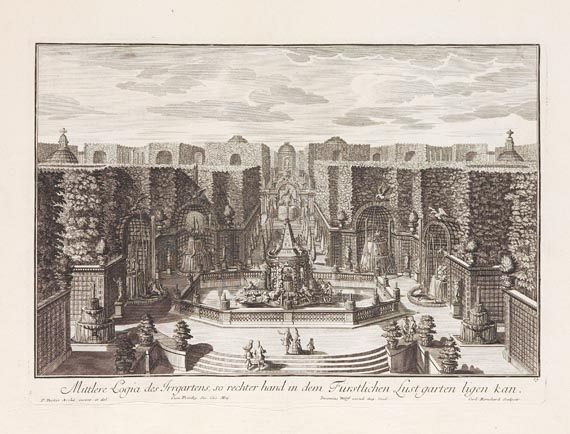 You might also be interested in
Paulus Decker - lots sold by Ketterer Kunst