Sale: 353 / Rare Books including Marine Art, May 18. 2009 in Hamburg

Lot 335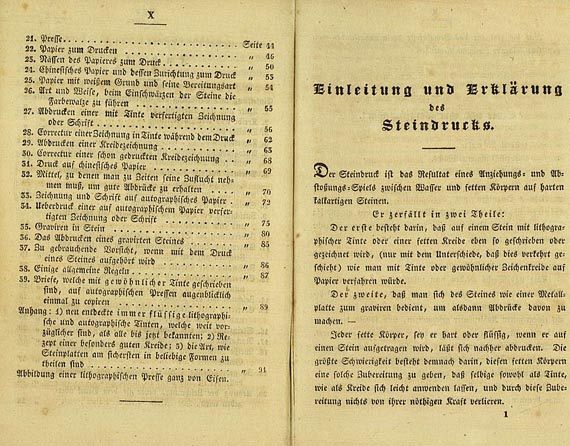 Lot description
Hove, (F. B.) van,
Der Steindruck nach den sichersten und untrüglichsten Grundsätzen und allen bis heute in der Lithographie gemachten Fortschritten und Verbesserungen ... für Steinzeichner, Steindrucker, Künstler und Liebhaber dieser Kunst. - Der Metalldruck ... nebst einer in technischer Hinsicht erklärenden Abhandlung, das Autographieren auf Stein betreffend ... 3 Tle. - Zus. 2 Werke in 1 Bd.Hamburg, A. C. F. Wolf 1828-29. HLdr. d. Zt. mit rotem RSch. (OU eingeb.). 8vo. X, 92 S., 2 Bll.; 2 Bll., 38 S.,1 Bl., 32 S., 1 Bl., 16 S., 3 Bll.
Kampmann S. 13. - Schröder III, 1717, 1 und 2. - Bigmore/Wyman I, 346 (nur Bd. I). - Ausgesprochen seltene erste Ausgaben über die Herstellung von Lithographien und das Metalldruck-Verfahren, verfaßt von dem ehem. Oberleutnant van Hove, der um 1826 in Hamburg eine lithogr. Anstalt errichtete. - Der erste Band behandelt ausführlich die Herstellung von Steindrucken, Wahl der Tinte, Kreide und Druckfarbe, des Papiers, der Steine und versch. Techniken. Der zweite Titel zum Metalldruck behandelt neben den Erläuterungen des Druckverfahrens und seiner Anwendung in zwei Anhängen das
Autographieren auf Stein
sowie
Die Bereitung und Anwendung eines Stein-Surrogats, in Ermangelung lithographischer Steine
. - 2 Bll. Rezepte zu Tinten angebunden. - Stockfl., erste Titel mit Besitzstempel B. van Hovens, OU mit ausgebesserten und ergänzten Randabrissen. Kanten berieben, Kap. ausgebessert. Exlibris Ernst Hefti.
Scarce first editions. Contemp. half calf with red label. - Foxing, first title with owner's stamp of B. van Hoven, orig. wrappers with repaired marginal cut out. Edges rubbed, spine ends renewed. Ex libris Ernst Hefti.
335
Der Steindruck. 1828
Estimate:
€ 2,500 / $ 2,875
Sold:

€ 2,520 / $ 2.898
(incl. 20% surcharge)