Sale: 353 / Rare Books including Marine Art, May 18. 2009 in Hamburg

Lot 645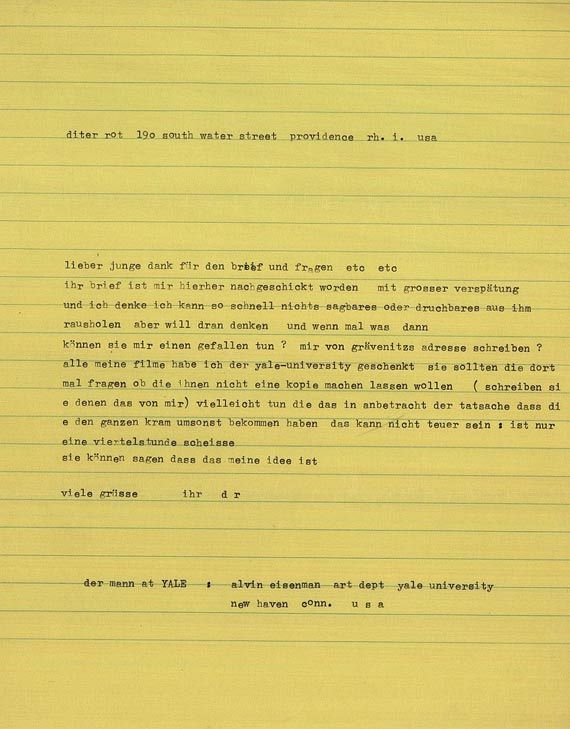 Lot description
Roth, Dieter,
Schriftsteller, Maler und Graphiker, 1930-1998. Masch. Brief.O. O. u. J. (ca. 1964). 1 S. 4to.
An den Künstler und Autor Jürgen Claus. "... lieber junge dank für den brief und fragen etc etc ... alle meine filme habe ich der yale-university geschenkt sie sollten die dort mal fragen ob die ihnen nicht eine kopie machen lassen wollen (schreiben sie denen das von mir) vielleicht tun die das in anbetracht der tatsache dass die den ganzen kram umsonst bekommen haben das kann nicht teuer sein : ist nur eine viertelstunde scheisse - sie können sagen dass das meine idee ist ..." -
Dabei: Reinhardt, Ad
, Maler, Kunsttheoretiker, Wegbereiter der Minimal-Art, 1913-1967. Eigh. Brief (Aerogramm) m. U. New York, 16. IV. 1964. 1 /3 S. 4to. - An J. Claus. "... I'm collecting some material for you which I will send you in a few days. Yes, I would like to get a copy of your book or books ..."
645
1 masch. Brief, um 1964. Dabei: Ad Reinhardt, 1 eigh. Brief, 1964.
Sold:

€ 168 / $ 206
(incl. 20% surcharge)
Dieter Roth - lots sold by Ketterer Kunst